Price search results for A Few Good MenJerry Maguire DVD (product no longer available)
More Results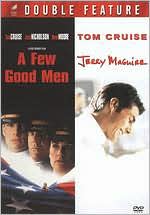 Features
Release Date: 12/29/2009
Source: Sony Pictures
Aspect Ratio: Theatre Wide-Screen (1.85.1) Cinemascope (2.35:1)
Presentation: Wide Screen
Sound: Dolby...
---
---


© Movies & Music 2018 onwards. All rights reserved. Images, prices & product descriptions are for reference purposes only. All trademarks and registered trademarks are the property of their respective owners. This site may receive compensation if a product is purchased through one of our partner links.